Landolt & Cie SA specialises exclusively in wealth management. The bank is present in Switzerland only. Its headquarters are in Lausanne, with branches in Geneva and Zurich.
In 2016, the Landolt and Lombard families joined forces to ensure the continued development of Landolt & Cie SA as a private bank specialising in wealth management for Swiss and international clients.
As a family business with an entrepreneurial spirit, Landolt & Cie SA offers its clients bespoke services to accompany them over the long term.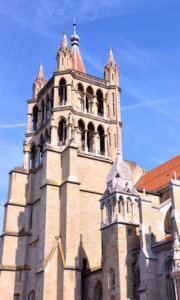 Headquarters
Landolt & Cie SA
Chemin de Roseneck 6
CH - 1006 Lausanne
Tel. +41 21 320 33 11
Fax. +41 21 321 33 93
Landolt & Cie SA offers highly personalised services in:
Private Wealth Management
Investment Advisory and Asset Management
Independent Asset Managers
Board of Directors

Thierry Lombard (Chairman)
Pierre Landolt (Vice-Chairman)
Cédric Moret
Jean-Jacques Hamel
Executive Management
Florent Prats
Alexis Lombard
Mourtaza Asad-Syed
Elad Ben-Am
Michael Otte